Wilson Manifolds Plenum Adapter – Billet Elbow, 90-105mm, 4500 Flange
Product by: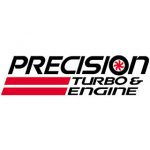 Description
Wilson Manifolds lightweight 100-degree elbows provide the most efficient method of adapting their high flow single bore throttle bodies to 4-barrel style intake manifolds. This allows the use of a high performance intake manifold with a large diameter single bore fuel injection throttle body.
Spec:
Billet Elbow
90-105mm
For 4500 Flange
These elbows incorporate a computer-optimized transition from the throttle body to the intake manifold plenum for maximum flow and optimum air flow distribution. Each elbow is CNC machined to match each end of the elbow precisely to its intended mating size.