TA Performance '86-'87 231 Turbo V6 Stock Replacement Headers
Product by: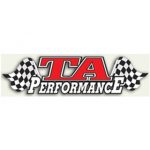 Description
TA Performance is known for the highest quality in Buick aftermarket headers, and these are our most recent example. These new Stainless Steel Stock Replacement 231 Turbo V6 headers will retain the same high tech features and manufacturing methods used in our highly successful performance headers, the best fitting and most powerful Turbo V6 headers ever produced and sold.
All fabrication and materials will be 100% USA, nothing imported. The turbo flange will also be the same precision cut 3/8″ thick piece currently on TA performance V6 headers with elongated hole for precise turbo/downpipe alignment. These headers should fit all downpipes that fit with stock headers.
The stock drivers side header is notorious for cracking at the collector, requiring it to be welded or replaced. Since our driver's side header will be a direct stock replacement, it is available to purchase just a replacement header for the driver's side. In addition, being that a stock type crossover pipe will be utilized, they are available as a single purchase part also.
These headers feature a 1.5" primary header tube diameter and a 2.25" crossover tube diameter.