TA Performance 4 Bolt, Stainless Steel Turbo V6 Headers
Product by: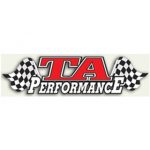 Description
Make this the last set of headers you will ever have to buy for your `86 or `87 Grand National, GNX, T-Type and Turbo Regal. This all new design incorporates our new flanges that allow the use of 8 or 14 bolt heads, clearance for starters,as well as 3 or 3.5 inch downpipes. Our exclusive double wall slip fit crossover and thick 1/2" flanges provide for a leak free installation. Available in 14 gauge mild steel and .083 thick 304 stainless. Header kits come with all gaskets and mounting hardware.
Note: Our Headers do NOT fit stock downpipes.
Great Fitting
Quicker Spool Up
Quicker ET's
Long Lasting