TA Performance 3 Bolt, Stainless Steel Turbo V6 Headers
$1,265.00
Call 321-610-1500 to Order
Product by: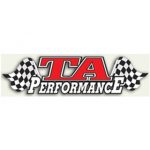 Description
Make this the last set of headers you will ever have to buy for your `86 or `87 Grand National, GNX, T-Type and Turbo Regal. This all new design incorporates our new flanges that allow the use of 8 or 14 bolt heads, clearance for starters,as well as 3 or 3.5 inch downpipes. Our exclusive double wall slip fit crossover and thick 1/2" flanges provide for a leak free installation. Available in 14 gauge mild steel and .083 thick 304 stainless. Header kits come with all gaskets and mounting hardware.
Note: Our Headers do NOT fit stock downpipes.
Great Fitting
Quicker Spool Up
Quicker ET's
Long Lasting
Incorporates interlocking flanges, abundant clearance to all bolt locations, slip lock crossover connection, two O2 or temperature sensor bungs.
Kit includes all hardware such as bolts, washers, clamps, and O2 sensor plug; plus steel core graphite header & connection gaskets as well as copper & graphite laminated turbo mounting gasket.
Header to head and turbo mounting flanges are 1/2″ thick to resist warping