TA Performance 3.5″ Stainless Steel Turbo V6 Downpipe, External Wastegate
$679.00
Call 321-610-1500 to Order
Product by: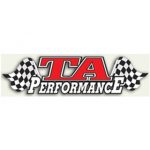 Description
TA Performance is known for the highest quality and best performing aftermarket exhaust components and our Turvo V6 downpipes are no exception. Constructed from Mandrel bent tubing, our downpipes are the best fitting downpipes available. With our higher quality and more efficient design comes performance that our competitors can't match, proven by the hundreds of people running our downpipes from Street applications all the way to full on Race applications. The top people in Turbo V6 performance swear by our products as they are the best you can buy your for car, EVER! All downpipes come with an Oxygen sensor bung installed.
The benefits of our Downpipes include:
Improved throttle response.
Improved Horsepower and Torque.
Designed for an easy fit.
Includes hardware and gasket.
Notes
Our Turbo V6 Downpipes fit stock headers (with removal or modification of the heat shield) and TA Performance Headers, they Do Not fit ATR Headers.
Turbo V6 Downpipes will Only work in `86-`87 Grand Nationals & T-Types. `85 and Older Will Not Fit.