FAST XFI? eDASH – Sensor Dash/Touchscreen Handheld XFI? Tuner
Product by: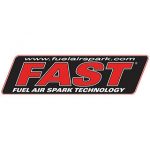 Displays up to (20) Readings/Sensors by Single Connector + Tune Changes
Description
Up to 20 Live Data Readings, On-The-Fly Tune Changes & More; By Single Connector
The XFI™ eDash makes harnessing the power of FAST™ XFI™ systems even easier. The unit lets users view multiple sensors in real-time and make popular adjustments without any software, laptops or switches. This direct plug-and-play piece is compatible with all FAST™ XFI™ and XFI Sportsman™ setups and provides an attractive, modern electronic digital dash that is small and compact, yet very readable. The full-color, touchscreen hand-held doesn't require a laptop or software as the unit automatically senses the EFI system to which it is attached. The plug-and-play capability is available due to the fact that it connects using the current XFI™ wiring harness Calport connector. The unit also features multiple live data sensor screens, which include various electronic digital dashes highlighting combinations of commonly used sensors. It includes suction cup and articulating quick-release mount, making dash or window mounting easy. Must have laptop for initial XFI™ setup procedure and tuning.
Compact Touchscreen Can Replace Tach, Speedometer & Other Gauges
Compatible w/ XFI 2.0™ & XFI Sportsman™
Perfect for engine swaps in late model vehicles w/ electronic gauge clusters
Displays up to 20 live data readings/sensors; Even all at once if desired, all from a single connector
Quick-release mount w/ suction cup for easy window/gauge cluster or other flat surface mounting
Logs error codes & both minimum & maximum sensor readings to allow easy recording
Same mounting points as Garmin GPS for nearly limitless mounting options
Start-up gauge screen is user selectable

On-The-Fly Tune Adjustments:
Adaptive Learn/self tuning on/off
Pick from up-to-4 street or race tunes (XFI 2.0™)
Power adder (Ex. boost control, nitrous) on/off (XFI 2.0™)
Torque converter clutch lock-up MPH
Rev limiter(s) RPM