Buick GN/Regal Alky Control Kit (NO 3 Bar)
Product by: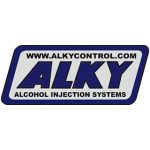 A progressive system designed once again for 100% methonal. We can not stress enough the gains you get by going with a kit thats built to hold up to 100%.
Description
Alkycontrol Methanol Injection kit for the 1986/1987 Turbo Buick platform. This is the best kit on the market for the Turbo Buick. Plenty of reading and feedback at www.turbobuick.com. Specifically made hoses, tanks, wiring, instructions etc.
New Modified Tank with Flare outlet adapter and low level sender
Modified Pump 250+ PSI on M15 and water. New cover to keep water out of motor.
Progressive controller preset for the Buick with Vertical panel
3 teflon lined braided hoses with pressed on ends custom length
Pre-taped pump fittings
90 micron in-line filter
M15 15 GPH Nozzle
Mini overflow tank to replace coolant tank
Low level LED to go in the "Low Fuel" slot of the dash.
And a Power Injection bulb to go in that slot in your dash.
All wiring is weather pack, split loom tubing, cable ties, connectors, …. More in Info Section